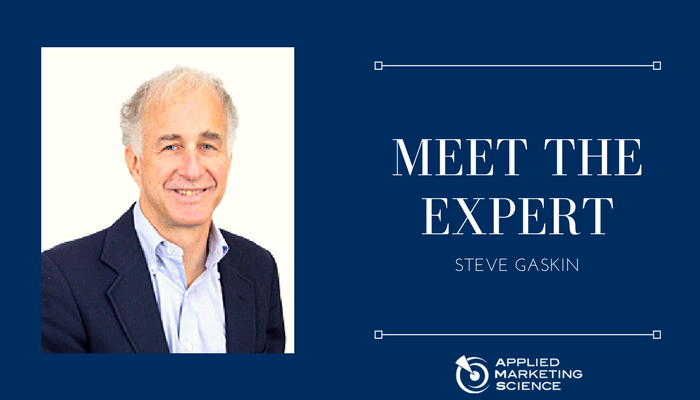 As the first installment in our Meet the Experts Series, we'll be speaking to Steve Gaskin regarding his experience and expertise in conjoint analysis. Steve Gaskin is a principal at Applied Marketing Science. With more than 35 years of experience, he conducts qualitative and quantitative research for the automotive, high-tech, industrial, aerospace, consumer packaged goods, and other industries. Steve also serves as an expert witness for legal cases, most often in the area of conjoint analysis for class actions.
How did you first get involved in conjoint analysis?
Back in 1984, as a young marketing scientist, I was asked to design and analyze a conjoint analysis for pretzel-like snack logs for Quaker Oats. Over the years I conducted conjoint analyses for various companies in a variety of industries. In 1997 I began working on litigation projects in support of academic experts. I gained a lot of experience working on these cases and responding to rebuttals. I have also conducted research and development projects and co-authored peer-reviewed journal articles with academics at MIT, Penn State, and Columbia on new conjoint analysis methodologies. Eventually, in 2013, one of the lawyers we worked with asked if I would serve as the expert on a class action conjoint case. I've been serving as an expert ever since.
How is conjoint analysis used in class action surveys?
These are typically "benefit of the bargain" cases, where customers did not receive the value they thought they were getting when they bought the product. The conjoint analysis enables us to calculate the "reduction in market value" (in dollar or percentage terms) due to the product potentially not performing as promised. For example, if a consumer buys a new vehicle he or she believes will get 35 MPG as advertised, and actually in use it gets a lower MPG, a conjoint analysis can determine the reduction in market value because this promised benefit was not truly offered by the vehicle. However, it is important to note that during the conjoint survey, we never ask people how much they would be willing to pay for this feature. Instead, we ask them to make choices between alternative products and then use that information to calculate the value for the absence of a promised feature that is revealed by their choices.
What are some major cases where conjoint surveys were used?
Here are some major cases that have survived a Daubert Challenge, if there was one, received class certification, and received a favorable settlement to the best of our knowledge. In all of these, we worked for the plaintiff:
Sanchez-Knutson vs. Ford Motor Company
The SUVs at issue were manufactured with a design flaw that allowed exhaust gases to enter the vehicle cabin under certain conditions.


Lenovo Adware Litigation
Lenovo was manufacturing laptops that had third party software installed, without consumer's knowledge or approval, that experts considered to be malware.


Khoday & Townsend v. Symantec Corp and Digital River case
Symantec and Digital River were selling the capability to re-download security software, when, in fact, customers could re-download it for free.


Kenai Batista et al. v. Nissan North America, Inc. case…
Some Nissan vehicles had a defect in there transmissions that could lead to a "shuttering" and "juttering"
For each of these, we used conjoint analysis to provide a basis for damages calculations by calculating the reduction in market value due to the absence of a promised feature. Read the second part of the "Meet the Expert" series.
To learn more about conjoint analysis, watch our webinar on demand, "Conjoint Analysis: Providing a Basis for Damages in Class Action Litigation".