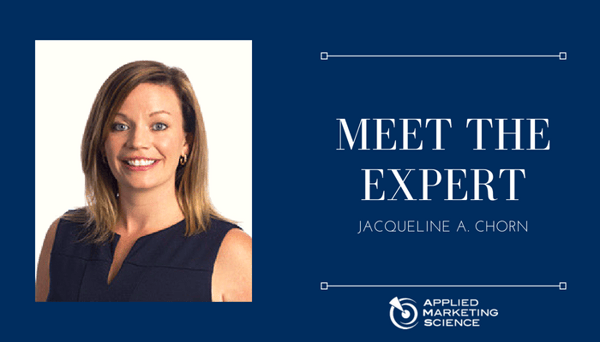 As the third installment in our Meet the Experts Series, we'll be speaking to survey expert Jacqueline Chorn. Jacqueline Chorn is a Senior Manager and Survey Expert in the Litigation Support practice at Applied Marketing Science.  
What is your academic background?
I hold a B.A. in psychology from the University of Kansas and an M.A. and Ph.D. in legal psychology from the Graduate Center at the City University of New York. Prior to my employment at AMS, I worked as an assistant professor of psychology at the University of the Pacific. At Pacific, I taught courses in legal psychology, research methods and statistics, and social psychology.
So, you're a trained legal psychologist? Tell us more about that and how that helps you in your current role.
Yes, decision-making and human behavior are intuitively interesting topics and the application to legal system is something I became interested in during my undergraduate studies at the University of Kansas. My dissertation, funded by the National Science Foundation, examined the functionality of the safeguards offered by the Supreme Court in Daubert v. Merrill Dow Pharmaceuticals (1993) to protect against the admission of unreliable expert testimony. Although it's my formal training in research methods and statistics that has really helped me most in my current role of designing and conducting research for claim substantiation and surveys for trademark, trade dress, and advertising matters.
Tell us a little bit about your role at Applied Marketing Science.
At AMS, I serve as both a Senior Manager and Survey Expert. In my role as Survey Expert, I design and conduct research and analysis to substantiate advertising claims and conduct consumer perception surveys for advertising cases, secondary meaning, and trademark and trade dress infringement where consumer opinions and behaviors may help to resolve legal disputes. I also critique opposing experts in the form of rebuttal work. In my role as Senior Manager, I support both internal and external experts with their consumer perception studies. I have gained a lot of experience working with these experts and value their training.
How long have you been designing research studies and performing statistical analyses?
I've been at AMS for a little more than 3 years. However, I've been designing research studies and performing statistical analyses for nearly 14 years now.
Are you a member of any professional organizations?
I am a member of the American Association for Public Opinion Research (AAPOR), the American Society for Testing and Materials (ASTM), the Council of American Survey Research Organizations (CASRO), the Institute for Operations Research and Management Sciences (INFORMS), and the International Trademark Association (INTA). I also serve on the editorial board for The Trademark Reporter (TMR).

Do you have more questions for Jackie? Are you interested in learning more about claim substantiation, trademark and trade dress infringement, class action matters, or false and deceptive advertising? 
To learn more about our offerings in claim substantiation, watch Jackie's webinar on demand, "Make a Statement (PART 1): Why claim substantiation matters."